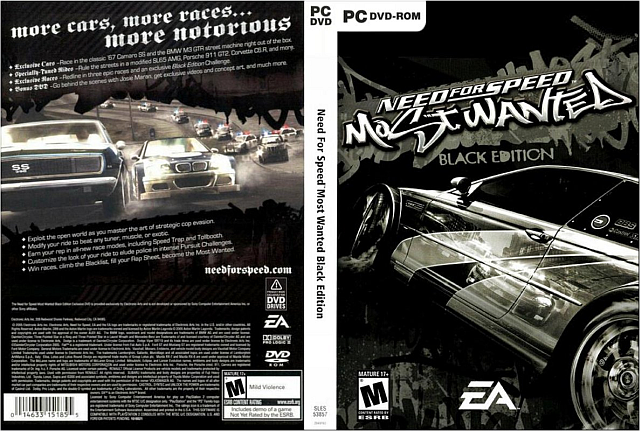 Need For Speed Most Wanted Black Edition (2007)


Black Edition Features:

2 Exclusive Vehicles—Get behind the wheel of a '67 Camaro, the only American classic in Need for Speed Most Wanted,
and a specially-tuned BMW M3 GTR street machine right out of the box in Quick Race and Online modes.
8 Custom Rides—Eight specially-tuned rides with hand-selected body kits, spoilers, rims, roof scoops,
and more are unlocked and available for you to redline in Quick Race and Online modes. Featured cars:
Supra, Lotus Elise, Porsche 911 GT2, Mercedes-Benz SL65 AMG, Corvette C6, Mercedes-Benz SL 500, Porsche 911 Carrera S,
and Corvette C6.R.
3 Exclusive Races—Ignite the streets in three races created specifi cally for the Black Edition,
unlocked and available to drive right from the start.
Features:

* Tune/upgrade the performance of your ride to beat any class of car.
* Daytime, illicit street racing.
* Get noticed and get challenged to races.
* Win races and ditch the cops to move up the "black list".
* Skill-based cop evasion and upgradeable evasion technology.
* Rap Sheet inspired game modes.
* Epic Hollywood-style police pursuits with up to 15 cop cars onscreen.
* Interactive environment that aides in losing the cops
* Drive across and into any open terrain/buildings.
System Requirements:

Windows XP or 2000
1.4GHz or faster CPU
256MB RAM
8x speed or faster CD/DVD ROM drive
3GB or more free hard drive space
DirectX 9.0c compatible Video Card with 32MB or more memory and one of these chipsets:

ATI Radeon 7500 or greater / ATI Radeon Xpress 200 / NVIDIA GeForce2 MX/GTS or greater
/ Intel 950/i915g / S3 GammaChrome S18 Pro
DirectX 9.0c compatible Sound Card
Keyboard & Mouse or USB Steering Wheel or Gamepad
INSTALATION:
~~~~~~~~~~~~~~
1. Unrar.
2. Burn or mount with Daemon Tools.
3. Install the game.
4. When prompted for a key, use the keygen located in the Crack dir.
5. Run nfsmwpatch1.3.exe to update the game to version 1.3. located in the /crack directory on the CD1.
6. Copy the cracked executable located in the /crack directory on the CD1 to your installation directory.
7. Play the game.