Enid Blyton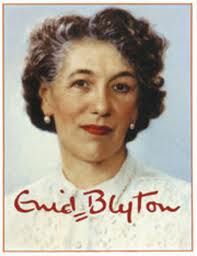 Enid Blyton Marija (11. kolovoz 1897 - 28. studenoga 1968) bila je engleski dječiji pisac, poznata i kao Mary Pollock.
Rođena je 11. kolovoz 1897, na 354. gospodstvu Lane, East Dulwich, London, Engleska,
Ona je poznata po brojnim niza popularnih knjiga na temelju stalnih likova, a namijenjen različitim dobnim skupinama. Njezine knjige su doživjele veliki uspjeh u mnogim dijelovima svijeta, te su prodate u više od 600 milijuna primjeraka.
Jedan od Blyton je najpoznatijih likova je Noddy, namijenjen ranim uzrastima. Međutim, njezin žanr su romani u kojem djeca imaju svoje avanture s minimalnom pomoći odraslih. Serija ovog tipa su 5prijatelja (21 roman, 1942-1963, temelji se na četvero djece i njihovog psa), Find-outers and dog, (15 romana, 1943-1961, gdje petoro djece redovito rješavanju zločine pre lokalne policije ), kao i The secret seven (15 romana, 1949-1963, društvo od sedmero djece koji rješavaju razne misterije). Pisala je i neke manje poznate pjesme i knjige.
5 Prijatelja
Biblioteka PET PRIJATELJA- Kroz seriju od 21 knjige upoznat ćemo se s dogodovštinama pet prijatelja; Julian, Dick, Anne, George i pas Timmy.
Biblioteku čine:
1. Pet prijatelja na otoku s blagom
2. Pet prijatelja u novoj pustolovini
3. Pet prijatelja u bijegu
4. Pet prijatelja protiv krijumčara
5. Pet prijatelja u cirkusu
6. Pet prijatelja u službi znanosti
7. Pet prijatelja na logorovanju
8. Pet prijatelja na tragu zločina
9. Pet prijatelja protiv otmičara
10. Pet prijatelja u lovu na dragulje
11. Pet prijatelja na strani pravde
12. Pet prijatelja protiv obalskih gusara
13. Pet prijatelja na tajanstvenoj pustari
14. Pet prijatelja Mali detektivi
15. Pet prijatelja na tajnom tragu
16. Pet prijatelja u službi avijacije
17. Pet prijatelja u škripcu
18. Pet prijatelja čuvari starina
19. Pet prijatelja na Demonskim stijenama
20. Pet prijatelja u podzemnoj riznici
21. Pet prijatelja u posljednjoj pustolovini
Nazivi u originalu
1. Five on a Treasure Island (1942)
2. Five Go Adventuring Again (1943)
3. Five Run Away Together (1944)
4. Five Go to Smuggler's Top (1945)
5. Five Go Off in a Caravan (1946)
6. Five on Kirrin Island Again (1947)
7. Five Go Off to Camp (1948)
8. Five Get Into Trouble (1949)
9. Five Fall Into Adventure (1950)
10. Five on a Hike Together (1951)
11. Five Have a Wonderful Time (1952)
12. Five Go Down to the Sea (1953)
13. Five Go to Mystery Moor (1954)
14. Five Have Plenty of Fun (1955)
15. Five on a Secret Trail (1956)
16. Five Go to Billycock Hill (1957)
17. Five Get Into a Fix (1958)
18. Five on Finniston Farm (1959)
19. Five Go to Demon's Rocks (1960)
20. Five Have a Mystery to Solve (1962)
21. Five Are Together Again (1962)
Prvi put ćete (na netu) imati prilike da dobijete sređene knjige na oba pisma...ćirilici i latinici.
1.Pet prijatelja na otoku s blagom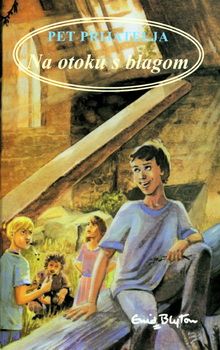 Olupina broda na otoku Kirrinu znači da tamo mora postojati blago! Pet slavnih prijatelja ne mogu dočekati da to istraže - ali oni nisu sami! Još je netko u potrazi za blagom! Tko će slijediti tragove i prvi stići do blaga?
Jezik: hrv.
Pismo: latinica i ćirilica
Format: pdf+doc
Hvala wertas na doc.
Obrada: e-book tim