James Sallis - Vožnja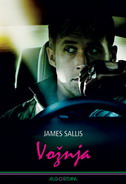 Ja vozim. To je sve što radim. Ne sjedim na mjestu dok ti planiraš pljačku ili dok je provodiš. Ti mi kažeš odakle krećemo, što nam je cilj, kamo idemo nakon toga, u koje doba dana. Ja ne sudjelujem, ne poznajem nikoga, ne nosim oružje. Ja vozim.
Ime mu je Vozač. Radi kao kaskaderski vozač u filmskoj industriji. Radije radi kao vozač vozila za bijeg u organiziranom kriminalu. Samo, premda daje sve od sebe da se ne miješa i ne bude umiješan, Vozač će ubrzo otkriti da je na njegovu glavu raspisana ucjena… i morati upotrijebiti sve svoje vještine, vozačke i ostale, da se proveze kroz pogibelj u kojoj se našao.
James Sallis jedan je od najboljih pisaca suvremenih krimića za koje još niste čuli. Njegov kratki roman Vožnja iz 2005. proširena je verzija priče objavljene u antologiji Measures of Poison još 2002. Knjiga je brzo stekla brojne poklonike, ali trebalo je šest godina da redatelj Nicolas Winding Refn donese svoju ekranizaciju Vožnje na filmski festival u Cannesu i oduševi međunarodnu kritiku. Zahvaljujući filmu, a sada i prijevodu Marka Balena, James Sallis uskoro će biti jedan od najboljih pisaca suvremenih krimića za koje ste svakako čuli.
obrada: Ziki
epub, mobi i azw3