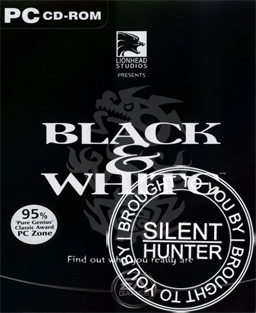 The player takes on the role of a god ruling over an island populated by various tribes. The player's control over the island is manifested in the Hand, an animated on-screen hand which can move or throw people and objects, tap houses to wake their occupants, cast miracles, and do many other things. Use of the keyboard and buttons in the game is purposely low; to add to the sense of realism, the (usually) mouse-controlled hand can perform every function in the game. In later patches, the Hand can also be controlled by an Essential Reality P5 Glove, a consumer-level virtual reality glove that is no longer for sale.
Generally speaking, the goal of a level is to gain control over every village on the island. This is accomplished through the performance of impressive acts that will cause the villagers to believe in the player. Villagers can be swayed by everything from helping them with day-to-day tasks to terrorising them with fireballs and lightning storms. Another important element of the gameplay is the player's Creature — a pet of sorts that can be trained to do almost anything, thanks to the game's complex AI, developed by Richard Evans. This Creature is trained by being placed on a leash while the player demonstrates the action the Creature is to learn using the Hand. With time and repetition, it can perform complex functions that will allow it to serve as the player's avatar in the world.
At the centre of the player's empire is the Temple, the building at which tribesfolk worship and the Creature sleeps. To increase the verisimilitude, menus and statistics are replaced by specialized rooms in the temple. Each village under the player's control will construct a worship area in the temple, where magical or 'prayer' energy is accumulated that can be used for miracles.
The gameplay is often helped along by two advisors to the player. They are the stereotypical conscience: one is a saintly, bearded old man seated on a cloud who refers to the player as "Leader", and the other a slightly tubby demon who calls the player "Boss". They offer conflicting advice on how to play the game; depending on which option the player chooses, his or her reputation as a good or evil deity is established (see below).