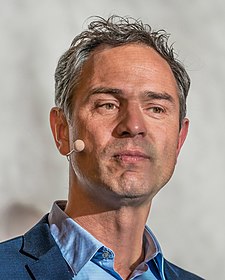 Daniele Ganzer (rođen 29. 08. 1972 u Lugano, Švajcarska), istoričar, stručnjak za međunarodnu politiku i savremenu istoriju posle 1945. godine. Sin protestantskog sveštenika i medicinske sestre. Bio je predsednik (2006–2012) švajcarskog odeljenja "Association for the Study of Peak Oil and Gas" (ASPO), i vodio je letnji kurs pod naslovom Istorija i budućnost energetskih sistema na Univerzitetu St. Gallen.Daniele Ganzer je viši istraživač u ETH Zurich, Center for Security Studies (CSS).
U Evropi je postao poznat kao autor knjige, koju je napisao i izdao 2005., NATO-ove tajne armije, prerađena je njegova doktorska teza. Od tada je otvoreno pisao, između ostalog, o neskrivanim i o skrivenim vojnim akcijama NATO država. U njima opisuje da su one suprotne međunarodnom pravu, kao i o globalnoj maksimalnoj proizvodnji sirove nafte. Bavi se i raznim alternativnim teorijama, posebno, o 9/11 (napad na WTC, 11. septembra) i prikazuje ih kao načine za objašnjavanje kojima se još nisu bavili ostali naučnici. Od septembra 2019, smatra da je naučno dokazana Hulsey-eva studija, kojom se jedino može objasniti, da je zgrada World Trade Center-a uništena eksplozivom.
(Izvor: Wikipedia)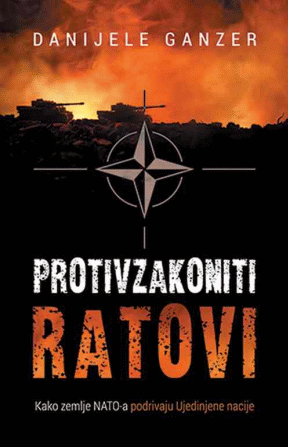 Kako zemlje NATO-a podrivaju Ujedinjene nacije.
"Mi, narodi Ujedinjenih nacija – rešeni da spasemo buduća pokolenja od užasa rata, koji je dvaput u toku našeg života naneo čovečanstvu neopisive patnje… odlučili smo: …svi članovi se u svojim međunarodnim odnosima uzdržavaju od pretnje silom ili upotrebe sile protiv teritorijalnog integriteta ili političke nezavisnosti svake države, ili na svaki drugi način nesaglasan s ciljevima Ujedinjenih nacija." Povelja Ujedinjenih nacija, San Francisko, 26. jun 1945.
Od osnivanja Ujedinjenih nacija ustanovljena je zabrana rata koja važi za sve zemlje sveta. Postoje samo dva izuzetka za vođenje rata – samoodbrana i mandat Saveta bezbednosti UN. Međutim, stvarnost izgleda sasvim drugačije. Ova knjiga opisuje protivzakonite ratove vođene u prošlosti i protivzakonite ratove koji se još uvek vode. U njoj je opisano na koji način su podrivana osnovna načela Ujedinjenih nacija, kako je svesno gažena zabrana rata i kakvu nedoličnu ulogu u svemu tome igraju zemlje članice NATO-a. Protivzakoniti ratovi, koji su se odigrali posle 1945. godine i kojima je u ovoj knjizi posvećena pažnja, vođeni su 1953. u Iranu, 1954. u Gvatemali, 1956. u Egiptu, 1961. na Kubi, 1964. u Vijetnamu, 1981. u Nikaragvi, 1999. u Srbiji, 2001. u Avganistanu, 2003. u Iraku, 2011. u Libiji, 2014. u Ukrajini, 2015. u Jemenu, a rat u Siriji još uvek je u toku.
"Svako ko pročita najnoviju Ganserovu knjigu Protivzakoniti ratovi doći će do gorkog zaključka da je 'rat protiv terorizma', koji od 11. septembra 2001. vode SAD i njeni partneri – pripadnici NATO-a – u stvari rat za resurse i da im u ovom trenutku islamistički terorizam služi kao alibi za međunarodne intervencije." Ken Jebsen, KenFM
Moja topla preporuka.
Sken: BD tim
Obrada: markocim (





za vilu)