Dorotea de Spirito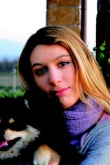 Dorotea de Spirito ima sedamnaest godina i živi u Viterbu, gde pohađa klasičnu gimnaziju. Sa izdavačkom kućom "Mondadori" je već objavila roman Odredište: hotel Tokio. Njen najnoviji roman, Anđeo, postigao je veliki uspeh u Italiji i svetu. Veliki je fan grupa Tokio hotel i Pink flojd, i rado citira stihove njihovih pesama u svojim delima.

ANĐEO
Vitorija ima šesnaest godina, ona je anđeo, ali se razlikuje od svih svojih srodnika: nema krila i celoga života se osećala izopštenom i tuđinkom čak i u sopstvenoj porodici. Svest o tome oduvek je prati, i dok joj život, iz dana u dan, mirno protiče između škole, prijatelja i svađa sa starijom sestrom, ona se ipak sve vreme oseća drugačije i kao da tu ne pripada.
Ali kad u grad stigne Guljelmo, tajanstveni mladić magnetno privlačnih očiju, Vitorijin svet se remeti i ona shvata da ljubav može da bude najgori demon. Klasična priča o zabranjenoj ljubavi, priča o Romeu i Juliji u svetu anđela i demona... Volim svoju suprotnost, svoj negativ, svoj i otrov i najbolji protivotrov. To je pogrešno. To je nemoguće. Ali je istinito i stvarno. Kao i naša ljubav.

Pdf, sr, latinica
Sken i obrada: nela012