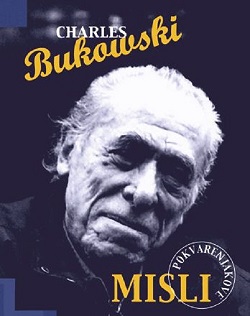 Charles Bukowski – Pokvarenjakove misli
Ovaj izbor misli Bukowskog nudi neke od poznatijih i zanimljivijih izjava, navoda, poruka i misli iz njegovih raznolikih djela (romana, kratkih priča, eseja, pisama, novinskih članaka, dnevničkih zabilješki, intervjua itd.).
Bukowski je volio pisati. Stoga neke od njegovih misli nisu sažete i jezgrovite, izrečene u svega jednoj ili dvjema rečenicama. Ponekad pojedina njegova misao zauzima cijelu stranicu i prije predstavlja oblik njegove životne filozofije te njegovih uvjerenja i svjetonazora nego tek sažeto razmišljanje. Ali, upravo to je tipični Bukowski, koji nam redovito govori: "E, pa to je moj stil."
U ovaj izbor neizbježno su uvrštene misli o nekima od osnovnih tema kojima se Bukowski opetovano vraćao cijelog života: to su misli o ženama i seksu, o piću, o osamljenosti, o kockanju, o mačkama, o filozofima i piscima, o pisanju, o slavi, o životu, o starenju, o smrti itd.
pdf, mobi, epub
scan i obrada: bojana888