Igra života i kako je igrati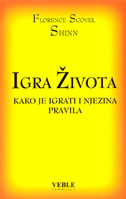 "Većina ljudi smatra da je život borba, ali život nije borba već igra. To znači da što god čovjek objavljuje putem svojib riječi ili djela, vraća mu se; što daje to i prima.
AKO mrzi uzvratit će mu se mržnjom; ako daje ljubav, primit će ljubav; ako kritizira primit će kritiku; ako laže lagat će mu se; ako vara bit će prevaren. Također smo poučeni kako moć zamišljanja ima važnu ulogu u životnoj igri. Moramo vježbati svoju sposobnost zamišljanja kako bismo uspješno igrali životnu igru. Osoba koja je uvježbala svoju sposobnostda vidi samo dobro, dobiva u životu sve što joj srce poželi-zdravlje, bogatstvo, ljubav, prijatelje, ostvarenje osobnib težnji, svoje najviše ideale."
Florence Scovel Snimi mnogo je godina poučavala metarizičku znanost u New Yorku. Njezine se knjige u velikim nakladama prodaju u cijelom svijetu. Tajna njezina uspjeba je u tome što je uvijek imala neusiljen pristup - srdačna i dubovita, govorila je jezikom bliskim širokim masama. Zbog toga je privlačila tisuće ljudi koji dubovnu poruku ne bi prihvatili da se služila tradicionalnijim i rormalnijim stilom, ljudi čije zanimanje, barem u početku, ne bi pobudila uobičajena literatura iz područja metarizike.
srpski jezik, doc