Manfred Lütz - Ludilo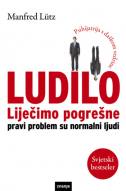 Knjiga je britka društvena analiza te ujedno vedar uvod u psihijatriju. Što su to depresija, tjeskobni poremećaj, panika, shizofrenija, ovisnost, demencija i ostalo? Što mogu poduzeti u vezi s njima?
U knjizi su opisane sve dijagnoze i sve terapije, a sve to na zabavan način. Ludilo!
Umijeće liječničke profesije je u tome da čine što je manje moguće. Psihijatru trebaju godine iskustva da nauči kad neku neobičnu osobu ne treba liječiti. Tko se bavi psihičkim bolesnicima, počinje bolje uočavati što je sve još uvijek normalno, a što pravi problem. To je uistinu "ludo" iskustvo, a ovom izuzetnom knjigom autor nam pruža priliku da i sami sudjelujemo u njemu.
EPUB
Edited by Mmelita, 28 August 2016 - 02:01.
obnovljeno