Ubojica Krucifiks
Robert Hunter 1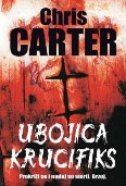 U napuštenoj kući u National Forestu, Los Angelesa, pronađena je divljački ubijena mlada žena. Bila je naga i obješena na dva drvena stupa, a koža joj je bila oderana s lica - dok je još bila živa. Na zatiljku joj je urezan neobični dvostruki križ - potpis psihopata koji je poznat kao ubojica Krucifiks.
Ali to nije moguće jer je ubojica Krucifiks uhvaćen prije dvije godine i pogubljen!
Je li moguće da je to djelo ubojice imitatora? Nekoga tko je otkrio sve pojedinosti ranijih umorstava, pojedinosti koje nikad nisu bile objavljene? Ili je detektiv Robert Hunter primoran suočiti se s nezamislivim? Je li pravi ubojica Krucifiks još uvijek negdje vani, spreman krenuti u okrutno orgijanje ubijanja, izrugujući se Hunteru koji ga ne može uhvatiti?
Robert Hunter i njegov novi partner uskoro će se naći u noćnoj mori koju nisu mogli ni zamisliti....
izvorna obrada: Kika
pdf, epub i azw3 hrv.