Douglas Hofstadter - Čudnovata petlja sam ja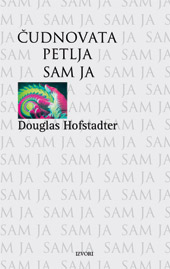 Opis:

Što mislimo kad kažemo "ja"?

Može li osobnost, duša, svijest, nazovite to kako hoćete, može li "ja" proizaći iz puke tvari? Ako ne može, kako smo onda vi ili ja ovdje? Ako može, kako onda shvatiti ovo začudno pojavljivanje?

Duboko u tvarnim temeljima, ljudski mozak je kaotična uzavrela juha čestica-molekula, na višoj razni on je neuronska prašuma, a na još višoj razini predstavlja nam se kao mreža apstrakcija što ih zovemo "simboli".

Središnji simbol u mozgu je onaj koji svatko naziva "ja". "Ja" je čudnovata petlja u mozgu i svakom se ljudskom biću čini da je to "ja" najzbiljskija stvar na svijetu. No kako je moguće da takva tajnovita apstrakcija bude zbiljska? Ili je možda naše "ja" samo prikladna fikcija, a naša osobnost neka halucinacija što je halucinira neka halucinacija?

Kako se u našem umu odražavaju druga bića? Može li mnogo čudnovatih petlja različite "jačine" boraviti u jednome mozgu? Ako je tako, tada je posvećeno načelo naše kulture – da u jednome mozgu stoluje jedna duša – samoobmana.

To su neke od tajanstvenosti obrađenih u ovoj knjizi. Trideset godina nakon autorove Gödel, Escher, Bach, evo svježe ispričane priče, ovoga puta razumljivije, pune anegdota, analogija i metafora. To je moderna filozofija uma koju može razumjeti svaka čudnovata petlja, knjiga koju Hofstadterovi čitatelji već odavno iščekuju.

Možda najvažnija knjiga koju ćete pročitati u životu!
Jezik: hr
Formati: doc, pdf, epub - by LoTo
Edited by boden, 12 November 2016 - 16:55.
Obnovljeno