Malena
Eve Edgarton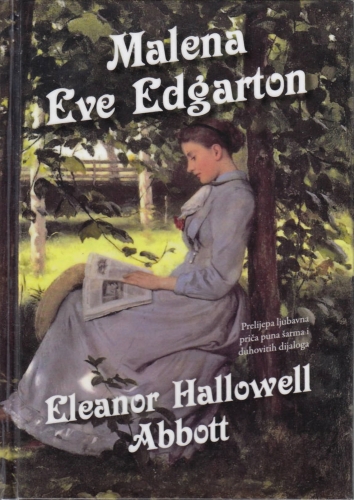 Vruće ljeto i jedan hotel.
Terasa i razgovor dvojice muškaraca. Mudrost starosti i površnost mladosti raspravljaju o ljepoti. O onoj unutrašnjoj energiji u umu i srcu koja traje vječno i vanjskoj uokvirenoj uvojcima i šeširom s rokom trajanja. Provoditi život s djevojkama koje ti dosađuju do smrti ili pronaći onu pravu djevojku iz priče? Stariji tvrdi kako Mlađi ne bi ni prepoznao djevojku iz priče ni da je vidi.
I malena Eve Edgarton. Slabašna, blaga, bezlična? Jedno poslijepodnevno jahanje, olujno nevrijeme, mračna spilja i svjetlo fenjera mogu otkriti potpuno novu stranu te neugledne mlade žene.
Hoće li mladić uspjeti redefinirati svoj pojam ljepote i zanemariti neuglednu vanjštinu? Hoće li se malena Eve Edgarton izboriti za život kakav ona želi ili će se prepustiti lutajućem postojanju po uzoru na svoga oca?
Romantična Malena Eve Edgarton donijet će odgovore na ta pitanja nakon povratka u hotel, nakon neobičnih zbivanja na raskošnoj zabavi i nakon dugih, iskrenih razgovora.
by janja
PDF / HR
********************************************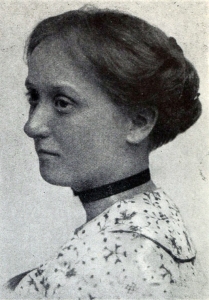 Eleanor Hallowell Abbott rođena je 22. rujna 1872. u Cambridgeu u državi Massachusetts u Sjedinjenim Američkim Državama. Bila je kći svećenika i urednika časopisa Literary World Edwarda Abbotta i unuka poznatog pisca dječje književnosti Jacoba Abbotta. Eleanor Hallowell Abbott odrasla je okružena književnim i vjerskim uglednicima zahvaljujući svome ocu i djedu. Zahvaljujući tomu je odrastajući upoznala mnoge književnike poput Henryja Wadswortha Longfellowa i Jamesa Russella Lowella.
Nakon privatnih škola i fakulteta radila je kao tajnica i učiteljica. Tamo je počela pisati poeziju i pripovjetke, no nije ostvarila veliki uspjeh na početku. Tek kada joj je Harper's Magazine objavio dvije pjesme njezina je spisateljska karijera krenula uzlazno. Uslijedile su i tri nagrade časopisa Collier's i The Delineator za njezine pripovijetke.
1908. udala se za dr. Fordycea Coburna i preselila u Novi Hampshire. Nedugo nakon preseljenja, nekoliko je popularnih časopisa objavilo njezine radove. Dvije njezine pjesme objavio je časopis Harper's Monthly 1909. Kasnije je objavila sedamdeset i pet pripovjetki i četrnaest ljubavnih romana. Being Little in Cambridge When Everyone Else Was Big njezina je autobiografija o djetinjstvu u Cambridgeu.
Abbott govori o tomu kako je kao dijete bila temperamentna i osjetljiva te je kroz svoja djela stupila u kontakt s tom stranom svoje osobnosti. To pokazuje kroz intenzivnost emocija svojih djela. Njezino je spisateljstvo ljubavno i iako neki od njezinih likova prolaze kroz bolna i teška razdoblja svaki od njezinih romana ili pripovjetki završava sretnim zaključkom. Središnji likovi koje prikazuje mlade su djevojke koje su iznimno smione, osjetljive, previše pričljive i pune uznemirujućih zahtjeva. S druge strane su njihovi muški pandani; tihi, snažni i grubi prema patnji.
Abbott čitateljima pruža jedinstven stil i cilja na spontanost i originalnost. Piše krajnje živahno koristeći začuđujuću slikovitost. Nikada ne bi dopustila objavljivanje djela koja se ne sviđaju njoj samoj. Upotrijebiti vlastite osjećaje o priči bila je njezina glavna preokupacija za vrijeme pisanja. Zbog tog jedinstvenog stila mnogo je kritičara komentiralo kako se njezina šarmantna djela mogu ponekad činiti usiljenima. Usprkos tomu, njezina djela otkrivaju odmak od grubosti okruženja u Novoj Engleskoj.
Eleanor Hallowell Abbott nije imala djece. Umrla je 1958. u Portsmouthu u Novom Hampshireu.
Radovi Eleanor Hallowell Abbott čuvaju se u knjižnici sveučilišta u Novom Hampshireu. Zbirka se uglavnom sastoji od rukopisa njezinih pripovjetki.
Osim Malene Eve Edgarton (Little Eve Edgarton) objavljene prvi puta 1914., koja je prevedena na hrvatski, ostala poznatija djela su: Molly Make-Believe (1910.), The Sick-a-Bed Lady - and other tales (1911.), The White Linen Nurse (1913.), The Indiscreet Letter (1915.), The Ne'er Do Much (1918.), Love and Mrs. Kendrue (1919.), Peace on Earth, Goodwill to Dogs (1920.), Silver Moon (1923.), But Once A Year: Christmas Stories (1928.), Being Little in Cambridge when Everyone Else was Big (1936).
UŽIVAJTE U ČITANJU