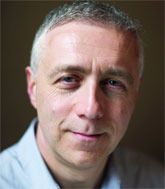 Markus Čon je nagrađivani pisac i autor RTV programa. Svojevremeno radio astronom na Kalifornijskom institutu tehnologije u Pasadeni, sada je konsultat za kosmologiju u nedeljnom naučnom magazinu New Scientist.

Markusova prva knjiga iz oblasti popularne nauke, Odsjaji postanja – drugoplasirana na dodeljivanju prestižne Ron-Pulenove nagrade – objavljena je 1994. i oduševljeno prihvaćena. Čarobna peć, njegova druga knjiga, izašla je u Britaniji 1999. U Japanu ju je Asahi Šimbun, najtiražniji dnevni list na svetu, izabrao za jednu od knjiga godine, a u Velikoj Britaniji ju je Dejli mejl nazvao vrtoglavim štivom "koje vas tera da gutate strane, sa svim pripovednim značajkama koje biste očekivali da nađete u Hariju Poteru". Njegova treća knjiga, Vasiona iz susedstva, objavljena je 2002. "Izvanredna knjiga – paralelni svemir u kome je nauka zapravo zabavna", pisao je Independent.

Markus živi u Londonu sa ženom Karin i njihovo dvoje dece.
Na naš jezik prevedene su knjige:
Čarobna peć - The Magic Furnace: The quest for the origin of atoms. (1999)
Beskrajni dani provedeni u smrti - The Never-Ending Days of Being Dead: Dispatches from the Front Line of Science. (2007)
Sunčev sustav - Solar System: A Visual Exploration of All the Planets, Moons and Other Heavenly Bodies that Orbit Our Sun. (2011)
Trebali bismo razgovarati o Kelvinu - We Need to Talk About Kelvin. (2009)
Za ljubitelje naučnopopularne literature biće obrađene sve.