Dobrodošli na Balkandownload.org
Tražite domaće knjige, exyu magazine, sinhronizirane crtane filmove, PC i ostale igre, strane i domaće filmove, dokumentarce, stranu i domaću muziku, itd. ? Ne morate tražiti dalje jer sve ćete to naći kod nas, uredno postavljeno i spremno za download. Osim toga registracijom možete sudjelovati u raznim postojećim temama na forumu, otvarati nove teme, sudjelovati u chatu i još mnogo toga. Ako već imaš otvoren račun,
logiraj se ovde
,a ako želiš saznati zašto smo najbolji
otvori novi račun
i uverite se sami :)
LEGO Avanture Klača Pauersa / LEGO: The Adventures of Clutch Powers (SR)
Started By
BD_TV
,
03.05.2016 - 22:12
#1
Posted 03 May 2016 - 22:12
LEGO Avanture Klača Pauersa
Radnja: Pratimo avanture Clutch Powersa, najboljeg graditelja i istrazivaca u Lego univerzumu.
---
#2
Posted 09 June 2020 - 04:43
LEGO: Avanture Klača Pauersa - SRSinh 720p BluRay x264 BD4YU
SINHRONIZOVANO SRPSKI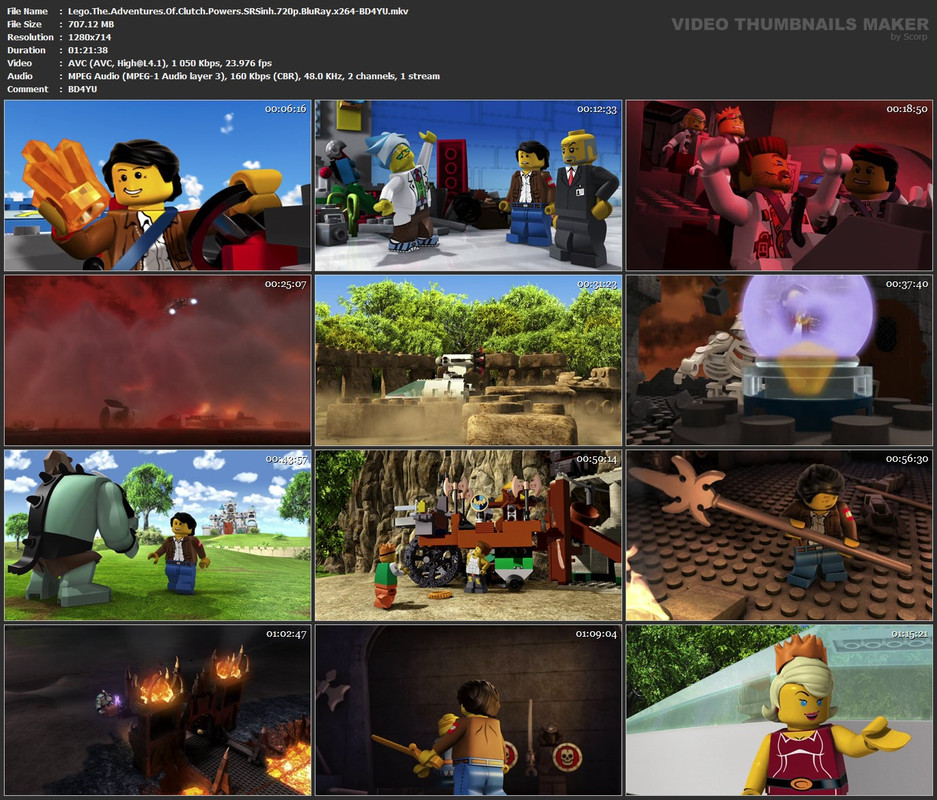 DOWNLOAD
Kako skinuti nesto sa Balkandownload-a?
www.slideshare.net/bd4yu/kako-skidati-fajlove-sa-balkan-download-a
Kako da pronadjete zeljeni sadrzaj na forumu?
www.balkandownload.org/topic/40428-kako-pronaci-zeljeni-sadrzaj-na-forumu/
Najmračniji krugovi pakla su rezervisani za one koji u vremenima moralne krize ostanu neutralni i suzdržani -Dante Alighieri
---
#3
Posted 10 June 2020 - 16:37
LEGO: Avanture Klača Pauersa - [SRB] [ENG] 720p BluRay x264 BD4YU
Audio 1: Srpski - Hvala Tobacco
Audio 2: Engleski

Titl 1: Srpski
Titl 2: Hrvatski
Titl 3: Engleski

Vreme: 1h 21min 38s
Orginal naziv:
(aka Lego: The Adventures of Clutch Powers)
Encoding info:

Video Thumbnails:


Download link:

Za brže SKIDANJE sa UPTOBOX-a poželjno je da ste REGISTROVANI i PRIJAVLJENI kod njih kao "FREE USER"
Prečice (linkovi) za preko 150 SINHRO crtaća (od A do Z), nazivi (mahom) na Engleskom:
101 Dalmatians 1, Aladdin 1, All Dogs go to Heaven, Alpha and Omega 1, Alvin and the Chipmunks 3: Chipwrecked, Animals United, Antz, Arthur 1: et les Minimoys, Arthur 2: et la vengeance de Maltazard, Arthur 3: la guerre des deux mondes, Asterix and Obelix: Mansion of the Gods (2014), Astro Boy, Atlantis 1: The Lost Empire, Bambi 1, Bee Movie, Big Hero 6, Bolt, BoxTrolls, Brave (Merida), Brother Bear 1, Bug's Life, Cars 1, Cars 2, Castle in the Sky, Chicken Little, Cinderella 1 (1950), Cloudy with a Chance of Meatballs 1, Cloudy with a Chance of Meatballs 2, Coraline, Croods, Despicable Me 1, Despicable Me 2, Dinosaur (2000), Donkey Xote, Dragon Hunters, Epic, Ernest & Celestine, Escape From Planet Earth, Finding Nemo, Flushed Away, Free Birds, Frozen 1, Frozen 2, Garfield 2, Gnomeo & Juliet 1, Happily N'Ever After 1, Happy Feet, Hercules, Home (2015), Home on the Range, Hoodwinked!, Hop, Horton Hears a Who, Hotel Transylvania 1, House of Magic, Howl's Moving Castle, How to train your Dragon 1, How to train your Dragon 2, Hrabri autić Plodi, Ice Age 2, Ice Age 3, Ice Age 4, Ice Age 5, Incredibles, Inside Out, Iron Giant, Joseph: King of Dreams, Justin and the Knights of Valour, Khumba, Kung Fu Panda 1, Kung Fu Panda 2, Lady and the Tramp 1, Legends of Oz: Dorothy's Return, Lego: The Adventures of Clutch Powers, Lilo and Stitch 1, Lion King 1, Lion King 2, Lion King 3, Lorax, Lord of the Rings (1978), Madagascar 1, Madagascar 2, Madagascar 3, Maya the Bee: Movie, Meet the Robinsons, Megamind, Minions (2015), Monsters 1 Inc., Monsters 2 University, Monster in Paris, Monsters vs Aliens, Mr. Peabody & Sherman, Mulan 1, Mulan 2, Niko 2, Open Season 1, Open Season 2, Over the Hedge, Paddington, Penguins of Madagascar, Pinocchio, Planes 1, Planes 2: Fire and Rescue, Planet 51, Postman Pat: The Movie, Prince of Egypt, Princess and the Frog, Puss in Boots, Rango, Ratatouille, Rio 1, Rio 2, Rise of the Guardians, Road to El Dorado, Robots, Secret of Kells, Shark Tale, Shaun the Sheep: Movie, Shrek 1, Shrek 2, Shrek 3, Shrek 4, Sinbad (2003), Sleeping Beauty (1959), Smurfs 1, Smurfs 2, Snow White, Snow Queen 1 (2012), Snow Queen 2 (2014), Spies in Disguise, SpongeBob Movie: Sponge Out of Water, Surf's Up, Tad The Lost Explorer, Tale of Despereaux, Tangled, Tarzan 1 (1999), Tarzan (2013), Tinker Bell 5: The Pirate Fairy, Tinker Bell 6: and the Legend of the NeverBeast, Titan AE, Toy Story 1, Toy Story 2, Toy Story 3, Toy Story 4, Toy Story of Terror (2013, short), Turbo, Up (2009), A Turtle's Tale 1: Sammy's Adventures, A Turtle's Tale 2: Sammy's Escape from Paradise, Valiant, Wall-E, The Wild, Wreck-It Ralph, Zambezia,

Prečice za crtane serije: Legend of Korra,
Prečice za dokumentarce: Survival - Opstanak (serija), Vaxxed II: The People's Truth (doku film), The Biggest Little Farm (2018) (doku film),
Filmovi sa prevodom (10): A Man for all Seasons (1966), Ostrov (2006), The Sound of Music (1965), The Court Jester (1955), Seven Brides for Seven Brothers (1954), Star Wars - Ep IV (1977), Star Wars - Ep V (1980), Star Wars - Ep VI (1983), Mary Poppins (1964), Postia pappi Jaakobille (2009) [Finnish], 1984 aka Nineteen Eighty-Four (1984),
- Kako se ponasati na forumu - pravila i saveti - Obavezno procitati!
- Pomozite nam u održavanju našeg i vašeg sajta sa donacijom
---
| | |
| --- | --- |
| Thanked by 44 Members: | , , , , , , , , , , , , , , , , , , , , , , , , , , , , , , , , , , , , , , , , , , , |
---
0 user(s) are reading this topic
0 members, 0 guests, 0 anonymous users