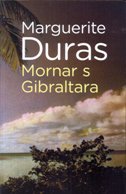 Mornar s Gibraltara
Bio jednom jedan čovjek koji nije bio sretan. Imao je ženu koju nije volio i posao koji mu se gadio. Bio je to čovjek razočaran uzaludnim i ispraznim životom, bez nade i bez prijatelja. No jednoga dana kad je, napokon, shvatio da njegov život ne valja, on napušta i posao i ženu.
Taj muškarac koji želi promijeniti svoj život zaposlit će se na brodu na kojem plovi jedna žena u potrazi za mornarom s Gibraltara kojega je nekoć voljela i koji je nestao. Između muškarca koji želi promijeniti svoj život i žene koja traga za svojim mornarom s Gibraltara rađa se ljubav. Oni zajedno kreću u potragu za izgubljenim mornarom.
Ako ga nađu, to će biti kraj njihove ljubavi. Brod kreće od Sètea do Tangera, od Tangera do Abidjana, od Abidjana do Léopoldvillea, i potraga se nastavlja. Hoće li ga naći?
Marguerite Duras (rođena kao "Marguerite Germaine Marie Donnadieu", Gia Dinh, Vijetnam, 4. travnja 1914. - Pariz, 3. ožujka 1996.) je francuska spisateljica, dramaturginja, scenaristica i redateljica. U francusku je književnu baštinu ušla kao jedna od najprevođenijih i najproučavanijih pisaca druge polovice 20. stoljeća.
Izvor: bojana888
Jezik: Hrvatski
Format: EPUB, AZW3, PDF