Myles na gCopaleen
Usta sirota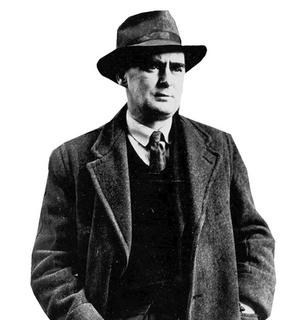 Brian O'Nolan (Brian Ó Nualláin, 1911. – 1966.) irski je romanopisac, dramatičar i satiričar koji se danas, uz Jamesa Joycea i Samuela Becketta, smatra najistaknutijim irskim književnikom 20. stoljeća i jednom od ključnih figura postmoderne književnosti.
Studirao je u Dublinu na University Collegeu, gdje je diplomirao keltske studije, s posebnim naglaskom na irskoj poeziji.
Pisao je na irskome i engleskome jeziku, pritom se koristeći uglavnom dvama književnim pseudonimima: Flann O'Brien, kojim je potpisivao sva svoja djela objavljena na engleskome jeziku, među njima i svoja tri najpoznatija romana, Kod Dvije-ptice-plivalice (At Swim-Two-Birds, 1939.), Treći policajac (The Third Policeman, 1960.) i Težak život (Hard Life, 1962.), te Myles na gCopaleen, pod kojim je objavljivao svoje satirične feljtone u Irish Timesu, ali i svoj najpoznatiji roman na irskome, Usta sirota (An Béal Bocht, 1941., engleski The Poor Mouth, 1973.). Osim navedena dva pseudonima, O'Nolan je svoje uratke potpisivao s još nekoliko njih (Brother Barnabus, The Great Count O'Blather, John James Doe i George Knowall), ponajviše zbog toga što je radio u državnoj službi, koja je bila vrlo apolitična i bez čijeg prethodnog odobrenja nijedan njezin djelatnik nije smio ništa javno objaviti.
Roman Usta sirota njegov je prvi roman objavljen na hrvatskome jeziku.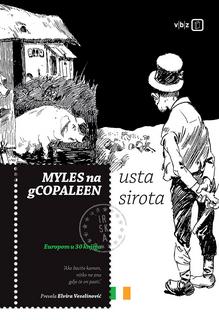 Roman Usta sirota (An Béal Bocht, 1941.) najpoznatije je književno djelo napisano na irskome jeziku, a ujedno i jedino djelo Briana O'Nolana (poznatijeg po svom književnom pseudonimu Flann O'Brien) na tom jeziku, potpisano kao Myles na gCopaleen. Iako se O'Nolan zbog zaposlenja u državnoj službi kao pisac služio s nekoliko različitih pseudonima, u slučaju romana Usta sirota učinio je to kako bi, osim stilom i radnjom, parodirao tada iznimno popularan žanr fiktivnih autobiografija i tzv. osobnih (is)povijesti u irskoj književnosti. Ta djela, pisana i potpisivana isključivo na gaelskom jeziku, kao svojevrstan otpor stoljećima provođenoj kulturnoj i jezičnoj anglifikaciji, uglavnom su prikazivala nesretan život irskih težaka na selu. Stoga se i radnja O'Nolanova romana zbiva upravo u takvom ambijentu: u selu Corca Dorcha u zabačenom dijelu Irske, gdje kiša nikad ne prestaje, a svi žive u neizmjernom siromaštvu, dijeleći sa svojom stokom (svinjama) i krov i hranu (gotovo uvijek samo krumpir), ali zato govore "pravim, istinskim gaelskim jezikom", zbog čega ih sve više posjećuju gaeilgeoiri (entuzijasti za gaelski jezik). U tom smislu, ovaj roman je i kritika površnog irskog nacional-romantizma toga vremena koji je bio opterećeniji uspostavom kulturnih vrijednosti i jezičnih normi nego teškim životnim uvjetima u Irskoj.
scan: michonne
obrada: Nyks
Hr, pdf
Link za ostale knjige iz serijala Europom u 30 knjiga