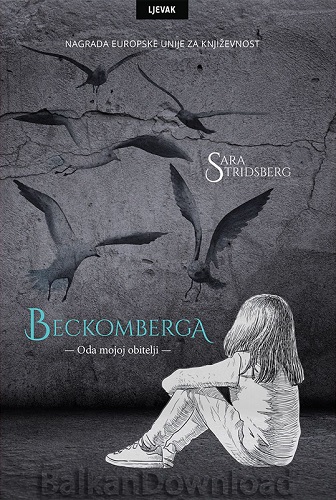 Sara Stridsberg - Beckomberga
- Oda mojoj obitelji -
Sara Stridsberg u svojim knjigama slavi krhkost i neponovljivost života, gorljivo zastupajući zanemarene i isključene iz društva, dajući glas utišanima. Njezina proza protkana je snovitom lucidnošću i snažnom empatijom prema onima manje sretnima.
(Iz obrazloženja žirija nagrade "Selma Lagerlöf")
NAGRADA EUROPSKE UNIJE ZA KNJIŽEVNOST
Kad Jimmie Darling, otac mlade Jackie – snažne, no istodobno ranjive protagonistice romana "Beckomberga – Oda mojoj obitelji" – nakon pokušaja samoubojstva završi u psihijatrijskoj bolnici Beckomberga, Jackie ga svakodnevno posjećuje i provodi ondje sve više vremena pokušavajući ga spasiti od autodestruktivnog ponašanja. Nakon što joj majka otputuje u inozemstvo, psihijatrijska bolnica postaje za Jackie drugi dom. Okružena psihijatrijskim pacijentima, ona kao da nije svjesna jasne linije podjele između ludila i normalnosti, a to je očito i jedan od autoričinih ciljeva: da premosti jaz između "zdravih" i "bolesnih", između bezličnih i hladnih društvenih institucija i marginaliziranih pojedinaca. U jednom od brojnih paradoksa ovog romana Jackie je privuklo mjesto kojeg se "normalni ljudi" boje i nastoje ga izbjeći pod svaku cijenu. Ona markira iz škole i manje-više odrasta uz pacijente Beckomberge – ljude kojima je sve oduzeto, a ipak se čine zdraviji i sretniji ondje nego bilo gdje drugdje.
Autorica implicira da ludilo, zdravlje i sreća koegzistiraju i unutar i izvan zidova umobolnice, no društvo i njegove institucije čvrsto se i nepopustljivo drže uspostavljenih granica strogog razdvajanja. Kao što ovo mjesto, obilježeno izolacijom i isključenošću, pruža svojim pacijentima utočište i zaštitu od hladnog i nesmiljenog svijeta koji za njih nema razumijevanja, ono pruža Jackie alternativnu obitelj, ali i zaštitu od sebičnosti oca kojeg pokušava spasiti – oca koji od nje traži da svjedoči njegovu samoubojstvu i čija brutalna iskrenost ne poznaje granice.
U romanu Beckomberga – Oda mojoj obitelji psihijatrijska bolnica poprima gotovo mitske dimenzije.
U svojem ekstremnom obliku, ona je izraz univerzalnog sna o oslobođenju od slobode, o čežnji za bijegom kroz podčinjavanje.
Politiken
Beckomberga je roman o kompliciranim ljudskim odnosima, mentalnoj bolesti, ovisnosti, suprotstavljenosti individue i društva i o umijeću nošenja s traumom. On ima i jasnu političku dimenziju: otvorenu kritiku društva koje se ne uspijeva na pravi način brinuti o onima kojima je briga potrebna. Istodobno, roman govori o radosti življenja unatoč nedaćama i preprekama. To je u osnovi roman o ljubavi u njezinim najrazličitijim oblicima – u konačnici, o ljubavi prema ljudima i svemu ljudskom.
Helsingborgs Dagbladet
Roman Beckomberga – Oda mojoj obitelji osigurao je Sari Stridsberg četvrtu nominaciju za najugledniju skandinavsku književnu nagradu – August – učvršćujući njezin status jedne od najznačajnijih pojava suvremene švedske književnosti.
Hallands Nyheter
O autorici
Sara Stridsberg (rođ. 1972.) prozaistica, dramaturginja i prevoditeljica, uživa status jedne od najznačajnijih pojava suvremene švedske književnosti. Dosad je objavila šest romana. Njezin prvi roman, "Happy Sally", objavljen je 2004. godine, a dvije godine kasnije uslijedio je roman "Drömfakulteten" koji joj je osigurao široku prepoznatljivost, nepodijeljene pohvale književne kritike, ugledne književne nagrade (Nordic Council Literary Prize i nominacija za prestižnu Nagradu August), a ugledno švedsko književno društvo De Nios proglasilo ga je "romanom desetljeća". Posljednji roman, "Beckomberga – Oda mojoj obitelji", objavljen 2014. godine, nominiran je za Nagradu August, a 2015. godine nagrađen je Nagradom EU za književnost. Za njezino književno stvaralaštvo dodijeljena joj je prestižna nagrada "Selma Lagerlöf" za 2016. godinu. Sara Stridsberg izabrana je 2016. godine za članicu Švedske akademije, kao najmlađa među 18 članova te ugledne švedske institucije.
scan Bri
pdf, epub, azw3 by Meli