David Macfarlane - Leto u Italiji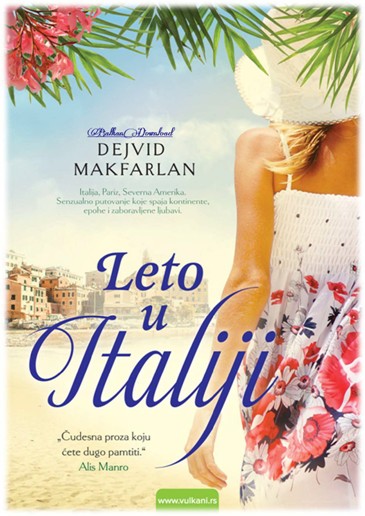 Naslov originala: The Figures of Beauty / David Macfarlane

Italija, Pariz, Severna Amerika. Senzualno putovanje koje spaja kontinente, epohe i zaboravljene ljubavi.
Vrelo leto 1968. godine ostaviće za sobom snažne uspomene.
Mladi Oliver planira da provede leto putujući po Evropi i zato odlazi u Pariz, a potom u provinciju Italije gde upoznaje ljubav svog života – Anu, devojku divljeg i strastvenog karaktera. Uprkos snažnim osećanjima, mora da je napusti i vrati se kod roditelja u Kanadu. Međutim, za sobom neće ostaviti samo slomljeno srce... Posle mnogo godina,život mu pruža još jednu šansu da povrati ono što je ostalo zaboravljeno pod neodoljivim brdima Toskane.


Neka osećanja nikada ne izblede, a za njima ostaje neizbrisivi trag, preko dalekih okeana i vrtloga vremena.
U životu postoji vreme koje je, za neke, najlepše od svih. To može trajati svega nekoliko dana. To može biti godina, ponekad dve. To se obično dešava daleko od kuće – negde gde možemo da budemo ono što želimo da budemo, a ne ono što jesmo.

Sken i obrada Rada



PDF


PDF, epub, azw3

dodat epub, azw3