Clare Azzopardi - Iza svake je ostalo ime
(Biblioteka "Europom u 30 knjiga" - br. 26)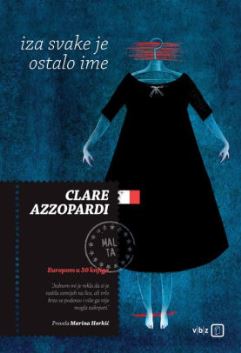 Clare Azzopardi (1977.) nagrađivana je malteška spisateljica koja piše za djecu i odrasle. Predaje književnost na Sveučilištu na Malti. Svoju prvu zbirku kratkih priča Zelena linija objavila je 2006. godine. Za tu knjigu nagrađena je Malteškom nacionalnom književnom nagradom, kao i za zbirku osam kratkih priča Iza svake je ostalo ime (2014.). Dobitnica je i Malteške književne nagrade za dječju književnost.
U svojim djelima eksperimentira s jezikom i stilskim registrima te otvara i kontroverzne društvene i političke teme. Istaknula se radom na projektima malteške nevladine organizacije Inizjamed čiji je cilj promovirati književnost na Malti i izvan nje. Inizjamed je organizirao mnoge književne festivale i radionice i pridonio promociji malteške književnosti u svijetu.
Djela su joj prevedena na više stranih jezika, a objavljivana su i u mnogim svjetskim književnim časopisima i zbornicima (Transcript, In Focus, Cuirt 21, Skald, Words without Borders, Novel of the World...).
Godine 2016. na Londonskom sajmu knjiga proglašena je jednim od deset Novih glasova Europe u sklopu projekta Literary Europe Live koji je pokrenula međunarodna platforma za poticanje književne razmjene Literature Across' Frontiers.
Sken - Dusty
Pdf ; Hr - Severijan
Epub ; Azw3 - Darkerka
pdf, epub, azw3
Link za ostale knjige iz serijala Europom u 30 knjiga