David Kahn
Šifranti protiv špijuna
1 - 4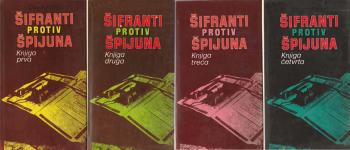 Kahnova knjiga »Šifranti protiv špijuna«, klasika u svom žanru, »definitivni« historijat kriptologije u svim njezinim vidovima i žanrovima, ispunila je jednu golemu prazninu i to je svakako bio jedan od osnovnih faktora njezina svjetskog uspjeha (bezbrojna bestselerska izdanja u Americi, prijevod na dvadesetak svjetskih jezika).
Djelo pisano s naučnom ozbiljnošću, Kahnovi »Šifranti protiv špijuna« (u engleskom originalu: »Razbijači kodova«) knjiga je koja fascinira svojom uzbudljivošću. To nije puki historijat kriptologije s opisom pothvata u raznim epizodama njezine povijesti. Autor na izuzetno zanimljiv način daje historijat ne samo raznih sistema »tajnog pisma« nego i historijat metoda njihova rješavanja, predstavljajući nam golemu galeriju ponekad genijalnih ljudi što su se istakli u toj disciplini. Opsežno Kahnovo djelo podjednako će zadovoljiti i laika i stručnjaka, ljude koji samo znaju da postoje šifre i kodovi jednako i one koji se njima bave svakodnevno u okviru svoje profesije.
Napomena: Ovo je djelomična obrada pdf-a koji kruži internetom. Obrađeno je formatiranje stranica, ubačen OCR tekst layer (koliko je dozvoljavao postojeći PDF), brojevi stranica svih knjiga odgovaraju brojevima stranica tiskanih knjiga tako da kazalo iz 4. knjige pravilno referencira pripadajuće pojmove u svim knjigama.
I to je to. Knjiga koja mi je dala smisao matematici i statistici i zbog koje sam ih i zavolio, uživajte. 😃
Jezik: HR
Format: PDF